[:es]
Al igual que su piel, pero solamente dos veces al año,
la madera, como elemento natural,
necesita un mínimo de mantenimiento durante el año,
con el tratamiento Sikkens (Detergente + Hidratante),
garantizará que la madera exterior de las ventanas estén protegidas
y alargará la vida del barniz aplicado un mínimo de 2 años más.
El kit de Mantenimiento Sikkens es sencillo y fácil de utilizar,
no necesita tratamientos previos, máscaras u otros elementos de protección,
y su aplicación es rápida con un resultado inmediato.
Visite nuestro apartado Kit de Mantenimiento Sikkens, y realice su compra online.
[:][:en]
Just like your skin, but only twice per year,
the wood, as a natural element,
need a minimum maintenance during the year,
with the Maintenance Kit Sikkens (Special Cleaner + Protective Emulsion),
it will ensure that the outdoor wood windows are protected
and extend the life of varnish applicated a minimum of 2 years.
The Maintenance Kit Sikkens it´s simple and easy to use,
does not need previous treatments, masks or other protective elements,
and its application is quick with an immediate result.
Visit our page Kit Sikkens of Maintenance, and buy online.
[:][:ca]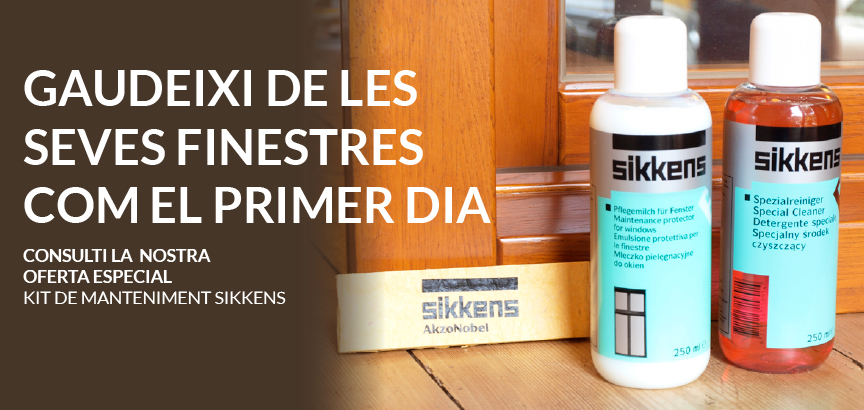 Igual que la seva pell, però solament dues vegades a l´any,
la fusta, com a element natural,
necessita un mínim de manteniment durant l´any,
amb el tractament Sikkens (Detergent + Hidratant),
garantirà que la fusta exterior de les finestres estiguin protegides
i allargarà la vida del vernís aplicat un mínim de 2 anys més.
El kit de Manteniment Sikkens és senzill i fàcil d´utilitzar,
no necessita tractaments previs, màscares o altres elements de protecció,
i la seva aplicació és ràpida amb un resultat immediat.
Visiti el nostre apartat Kit de Manteniment Sikkens, i realitzi la seva compra online.
[:]
02/05/2016
Volver